About Geisler Co.
The Geisler Company (formerly known as A.A. Geisler Company) was established in 1952 as a specialty distributor focusing primarily on tooling components, drill bushings, threaded inserts, clamping and fixture workholding.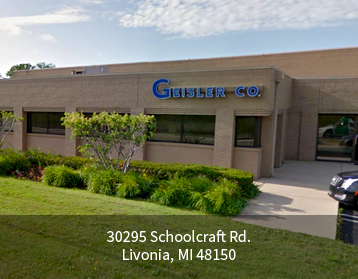 The company has expanded to become a full-line industrial distributor, still maintaining its competencies in technical products. In 2014, Geisler relocated to a larger, 30,000 square foot facility in Livonia, MI. The company is now a full line distributor of:
Bushings & Tooling Components
Abrasives / Grinding Wheels
Cutting Tools
Safety Products
Screw Thread Inserts
Workholding
Geisler Company leverages outside account representatives to provide the highest level of customer service.
Our account representatives have the technical expertise necessary to work collaboratively with customers to address their specific requirements and offer solutions. They act as liaisons in the field, building customer partnerships and personally ensuring customer needs are met. Account representatives have participated in hands-on training with products such as fixturing, manual, hydraulic and pneumatic clamping, abrasives, and cutting tools. Please feel free to request to have an account representative visit your location to see how we can help your operation.
Our Mission
The company mission is to continue to develop itself as a premier global distributor to the industrial marketplace, supplying high-quality products in a timely manner.
---
We will make every effort to exceed your expectations whether it is a technical issue, a delivery challenge or a routine order. Call 313-255-1450